Obama's policies benefit the 1% more than Bush's
Don't believe me? How about the left-wing Huffington Post?
The chart below is one of a series that HuffPo put out on September 13, and it tells a tale: Obama's policies have been terrible for the so-called 99 percent.
Heavy regulations, business uncertainty, and the job-killing effects of Obamacare all conspire to restrain job growth for the people who need it most. Meanwhile, politically connected companies, insiders, and the elite can keep milking Wall Street and riding the crony capitalist gravy train.
Under OBAMA, the rich get richer. Imagine that.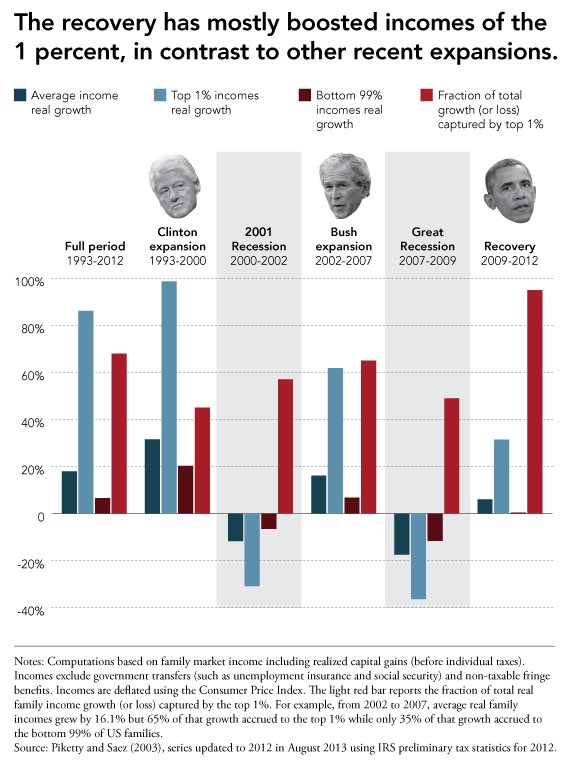 Christopher Cook is a writer, editor, and political commentator. He is the president of Castleraine, Inc., a consulting firm providing a diverse array of services to corporate, public policy, and not-for-profit clients.
Ardently devoted to the cause of human freedom, he has worked at the confluence of politics, activism, and public policy for more than a decade. He co-wrote a ten-part series of video shorts on economics, and has film credits as a researcher on 11 political documentaries, including Citizens United's notorious film on Hillary Clinton that became the subject of a landmark Supreme Court decision. He is the founder of several activist endeavors, including AnyStreet.org (now
a part of Western Free Press
) and
Liberatchik.com
. He is currently the managing editor of and principal contributor to
WesternFreePress.com
.
Latest posts by Christopher Cook (see all)
Leave a comment