Yes, Virginia, "union thug" IS the correct term

"I'm saying if you strike a match and you put your finger in it, you're likely to get burned."
Long before becoming the top union boss at the AFL-CIO, Richard Trumka's reign as president of the United Mineworkers union was marked by intimidation against independent-minded workers who dared to defy the union hierarchy.
The contempt on display in Trumka's fiery rhetoric for those workers who refuse to toe the union-boss line remains widespread throughout Big Labor.
One of the National Right to Work Foundation's latest free legal aid cases provides yet another example.
Four West Virginia Constellium Rolled Product workers turned to the Foundation for help after United Steelworkers (USW) Local 5668 union bosses threatened them for exercising their right to return to work to provide for their families during a union-boss-ordered strike last year.
Union militants posted signs in public view containing the workers' names, phone numbers, and addresses.
Not only that, union militants constructed an outhouse displaying nonstriking workers' names next to a creepy decapitated doll's head, as seen in the picture below.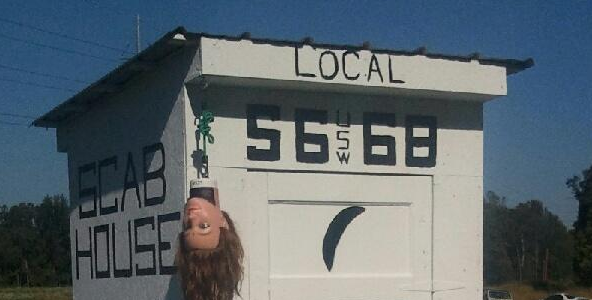 In March, the workers received letters from USW Local 5668 union bosses threatening massive retaliatory fines and placing the workers at the bottom of the seniority list
.
Those threats are illegal under federal law.
Workers who refrain from union membership are exempt from the union's constitution and bylaws and thus cannot be disciplined for continuing to work during a union boss-ordered strike.
Adding insult to injury, in violation of the Foundation-won U.S. Supreme Court precedent Communications Workers of America v. Beck, union bosses continued extracting full union dues from the workers' paychecks.
Because West Virginia lacks a Right to Work law, the workers can still be forced to pay some fees but cannot be required to pay for union activities unrelated to workplace bargaining, such as politics and political lobbying.
Foundation attorneys filed federal unfair labor practice charges against USW Local 5668 union bosses last month.
Over the years, Foundation attorneys have won settlements for workers illegally threatened by union bosses with fines up to $40,000 simply for returning to work to provide for their families.
Workers should not be forced to abandon their jobs and be denied their right to provide for themselves and their families at the whim of militant union bosses.
Your support helps the Foundation fight back in cases just like this one.
Thank you for helping us stand up for workers who face intimidation by union militants.
Sincerely,



Mark Mix
Latest posts by Press Release (see all)
Leave a comment