The Right Way to Do Immigration Reform
From Senator Jeff Flake:
I wanted to update you on an important development with regard to immigration reform: Along with a bipartisan group of Senators, on Monday I unveiled an immigration reform framework that, among other elements, demonstrates that Congress appears to finally be getting serious about the federal government's failure to secure the border.
The proposal includes a temporary worker program that would give Arizona businesses access to both high and low-skilled foreign labor, a necessity in order to grow our economy.
But, more importantly for Arizona, the proposal emphasizes border security and deals with illegal immigrants currently living in the country in a way that does not give them amnesty.
The proposal creates a commission made up of border governors, attorneys general, and local stakeholders to monitor progress along the border. Border security measures would have to be implemented before other components of the plan are implemented.
In order to gain a probationary legal status, illegal immigrants would have to pay fines and back taxes and undergo background checks. Before illegal immigrants would be given a chance at citizenship, the border must be certified as secure and then illegal immigrants would be forced to go to the back of the citizenship line. These measures ensure that illegal immigrants would be held accountable for their illegality and not be given amnesty.
The other Republicans who crafted this proposal, including Senators Marco Rubio and John McCain, and I worked hard to include these measures. Included below are some excerpts of news coverage on the proposal.
Obviously, this is just a start. It will take much more work to fill out the details of the plan. Please know that as this proposal moves through the legislative process, I remain committed to enacting a bill that best serves the citizens of Arizona.
Thank you.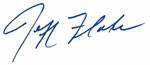 Jeff
Emphasis on Border Security
"The senators have proposed a commission of border-state governors, attorneys general and community leaders to monitor border security." – Los Angeles Times
"Before a pathway to citizenship can happen, the group says that new border security measures first must take effect, including an increase in the number of unmanned aerial vehicles and agents at the border, new rules for tracking people entering the country on temporary visas and the creation of a commission of southwestern political and community leaders to ensure the new enforcement mechanisms take effect." – Politico
"Among the plan's new proposals is the creation of a commission of governors, law enforcement officials and community leaders from border states that would assess when border security measures had been completed." – New York Times
"In order to satisfy the concerns of Rubio and other Republicans, the senators are calling for the completion of steps on border security and oversight of those here on visas before taking major steps forward on the path to citizenship." – Associated Press
"The legislative framework, released Monday, also would add federal agents and equipment to strengthen the borders and tighten work rules to ensure employers hire legally." – Wall Street Journal
No Amnesty
"The Senate proposal would allow most of those in the country illegally to obtain probationary legal status immediately by paying a fine and back taxes and passing a background check. That would make them eligible to work and live in the U.S. They could earn a green card — permanent residency — after the government certifies that the U.S.-Mexican border has become secure, but might face a lengthy process before becoming citizens." – Los Angeles Times
"After the enforcement measures take effect, those who have obtained their probationary legal status would be required to undergo a series of requirements — including learning English and civics and undergoing further background checks — before being able to obtain permanent residency. The proposal insists that those who have entered the country illegally would not get preferential treatment over legal immigrants playing by the rules." – Politico
"A proposal would also require that an exit system be in place for tracking departures of foreigners who entered the country through airports or seaports, before any illegal immigrants could start on a path to citizenship." – New York Times
"Even then, those here illegally would have to qualify for a "probationary legal status" that would allow them to live and work here — but not qualify for federal benefits — before being able to apply for permanent residency. Once they are allowed to apply they would do so behind everyone else already in line for a green card within the current immigration system." – Associated Press
"Under the Senate framework, most people in the country illegally now could qualify for legal status and work permits, provided they meet certain standards, including a background check and paying back taxes. They eventually could qualify for citizenship,but most would have to wait until certain border-security improvements were met and a new system put in place for tracking whether people who enter the country legally on temporary visas leave on time." – Wall Street Journal
Latest posts by Press Release (see all)
Leave a comment